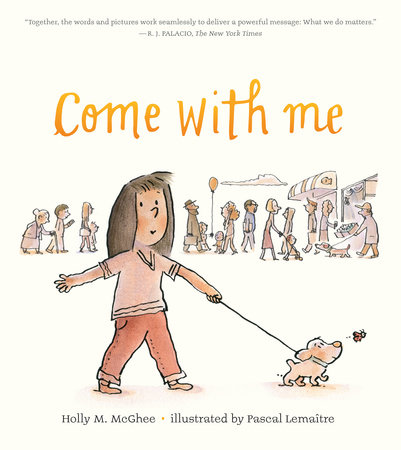 Text:
In the necessary and heartwarming story, Come with Me, the reader follows a girl who is fearful of the world surrounding her.  The news inundates her with dark facts, but rather than feeling helpless she asks her father what can be done to make the world a better place?  His simple response, "Come with me."  Together they go out into the scary world, finding ways to connect with strangers in their city.  But the news does not change.  The world is still dark and evil, so she poses the same question to her mother.
"What can we do?"
"Come with me."
Together, she helps her daughter face the scary world once again.
Upon returning home the girl decides she wants to do something herself.  Stepping foot outside her door, alone, to walk her dog, the little girl is soon connecting to others on her own.  In turn she learns a powerful lesson–actions don't have to be big to make a big impact.
Tool:
Craft Moves:
Repetition
Character Development
Character Traits
Theme
The repetition in this text can be analyzed from two different levels the text– the phrase "come with me" stated throughout, and the characters' repetitive actions.  First she goes to the subway with her father who has said, "Come with me," then she goes to the grocery store with her mother who said the same.  Ultimately, she goes out on her own and as she meets others along the way, she tells them simply, "Come with me."  Her parents had shown her the world did not have to be scary, and now she was leading others to see the same through her bravery.
Although the text is simple, each character is so layered in who they are and the illustrations do a beautiful job bringing these traits out.  We also see a significant shift in each of one as the book progresses.  Initially, the text starts with the girl being scared and her parents showing her how to be brave out in the world.  As the girl begins to internalize that bravery she wants to go out into the world, and now her parents are the ones who are scared.  The turning points in the text allow for a deep level of analysis from both a reading and writing standpoint.  The reader can analyze how the character is changing through actions and words, but the text is also simple enough to make emulating this work accessible and transferable with our young writers.
Finally, there are so many themes/universal messages that can be gleaned from this text.  Below is one of my favorite tools for tracking theme because it gives students a lens to think through as they read, and also requires them to pay special attention to scenes which are often difficult for them to write in their own work.  By doing this work in reading, we build natural places to go back in our text(s) to analyze it for craft and message as writers.
Thought:
I had this text selected as my next to share long before the hurricanes and Vegas shooting transpired.  As our nation and world continue to face destructive and unthinkable adversity, we feel lost.  What can one do?  These moments are so big that any action feels insignificant.  This text is a beautiful reminder to us that it's not.  It shows us that no matter the action, our human calling is to step outside, connect, and do. Living behind closed doors and screens and fear does not exact change.  Uniting in a voice of solidarity does.  Come with me.  Now is the time for change.  Now is the time for bravery.
Now is the time.